Traditional recipes with a modern twist
Gourmet sophistication that stays true to roots in local home cooking: the Carpe Diem restaurant's Livigno-style menu is a perfect blend of traditional family meals in mountain chalets and sophisticated modern dishes created by top local chefs. This can be seen – or, rather, tasted – not only in classic Valtellina-style dishes like pizzoccheri, sciatt and chiscioi but also in certain lesser-known yet equally delectable culinary specialities from the province of Sondrio: manfrigole and crostini di polenta.
Manfrigole: Valtellina-style buckwheat crêpes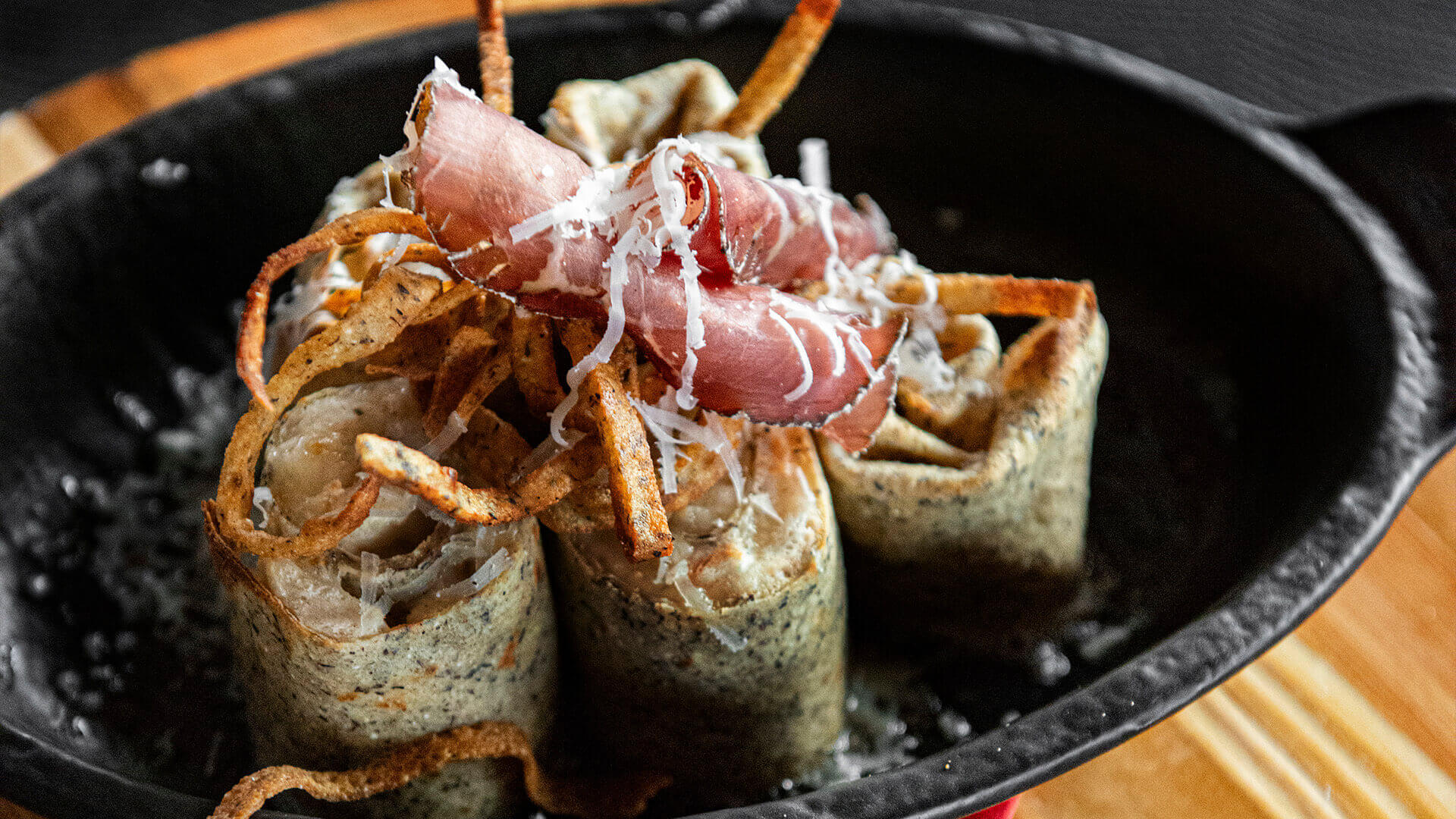 Manfrigole – whose name (Valtellina dialect for 'rubbing your hands together', since this is how they are prepared) makes them even more enticing and appetising – are a country-style dish typical of the Upper Valtellina, also cooked in Livigno in days gone by. For this reason, we chose to include it in the menu of our trattoria in the pedestrian area, overlooking the ski slopes. As is traditional, the ingredients of our manfrigole are all rigorously locally-sourced: the buckwheat flour, Casera cheese and Valtellina bresaola (thin-sliced cured beef) come together to bring the flavours of our valley to your palate.
The recipe for manfrigole involves preparing crêpes with eggs and two types of flour and then stuffing them with a melted cheese filling finished an added taste of bresaola: mountain flavours to enjoy in an authentic, natural dish.
Pair it with: Ventolaio – Rosso di Montalcino DOC
Crostini di polenta with sauces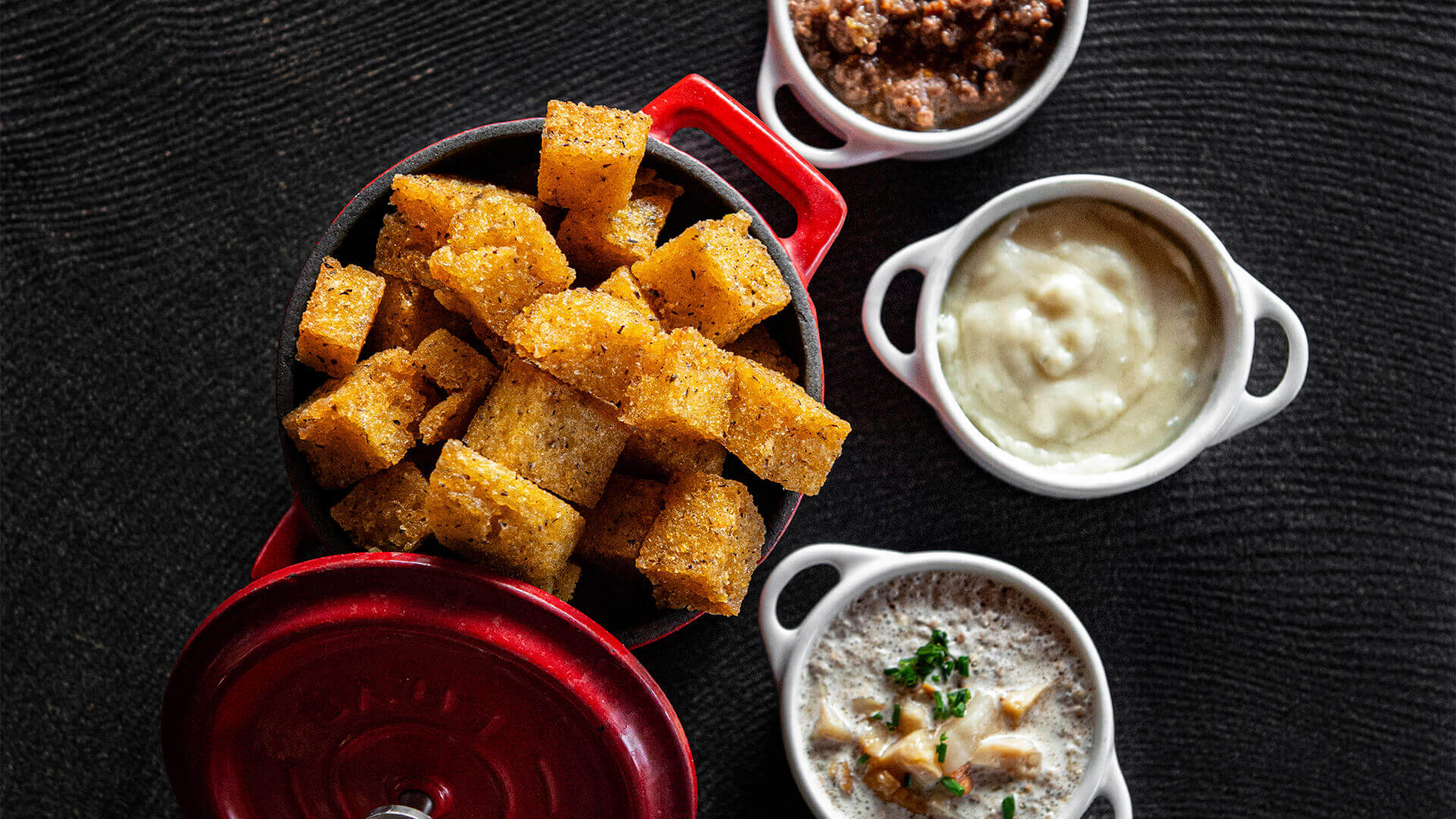 On the Livigno lunch tables of yesteryear, pride of place was traditionally occupied by a wooden board of polenta (corn mash), the staple food of rural people, cooked on a daily basis to feed the whole family. For this reason, people still use the saying 'la solita polenta' ('the same old polenta') to refer to anything routine or repetitive. We, on the other hand have drawn inspiration from this past custom to create, through a combination of chance and design, an innovative and different dish.
In the kitchen of our family-run restaurant, we took yellow Valtellina polenta, cut it into cubes and made it into crunchy crostini (croutons), and then combined it with three different accompanying sauces – cheese, mushroom, and venison ragù, well-loved mountain flavours – thus transforming a traditional recipe into a culinary speciality.
Carpe Diem's crostini di polenta have consequently become an unmissable dish, served similarly to a cheese fondue, arousing diners' curiosity and inviting them to share their meal in the same spirit in which our ancestors once sat at local tables so many years ago.
Pair it with: Ventolaio – Rosso di Montalcino DOC
Discover all the other dishes of the Carpe Diem restaurant in Livigno