The perfect destination for a mountain holiday with children
Are you planning a summer holiday in Livigno with your family? Excellent choice: when the winter season ends and the last snow has melted, the Valtellina's most famous resort transforms from a playground for true skiers into a genuine paradise of greenery where nature and fun go hand in hand. And there are plenty of activities for children.
What to do with the children in Livigno in summer
Hiking in the mountains: excursions in Livigno
Children never stay still, especially on holiday, so why not channel their energy while topping up your nature levels? There are numerous opportunities for family trekking in Livigno: a network of mountain routes and paths of varying difficulty and length criss-crossing the entire valley, for discovering the woodlands, scents and inhabitants of the Alps and admiring stunning panoramic views from the peaks overlooking the valley. One of our favourite excursions to enjoy with children in Livigno is undoubtedly the Val Federia route, an easy mountain walk that winds among the woods, streams and picnic areas, ideal for a family outing, a short distance from the town centre (and therefore from our hotel) and also accessible via Livigno's free bus service.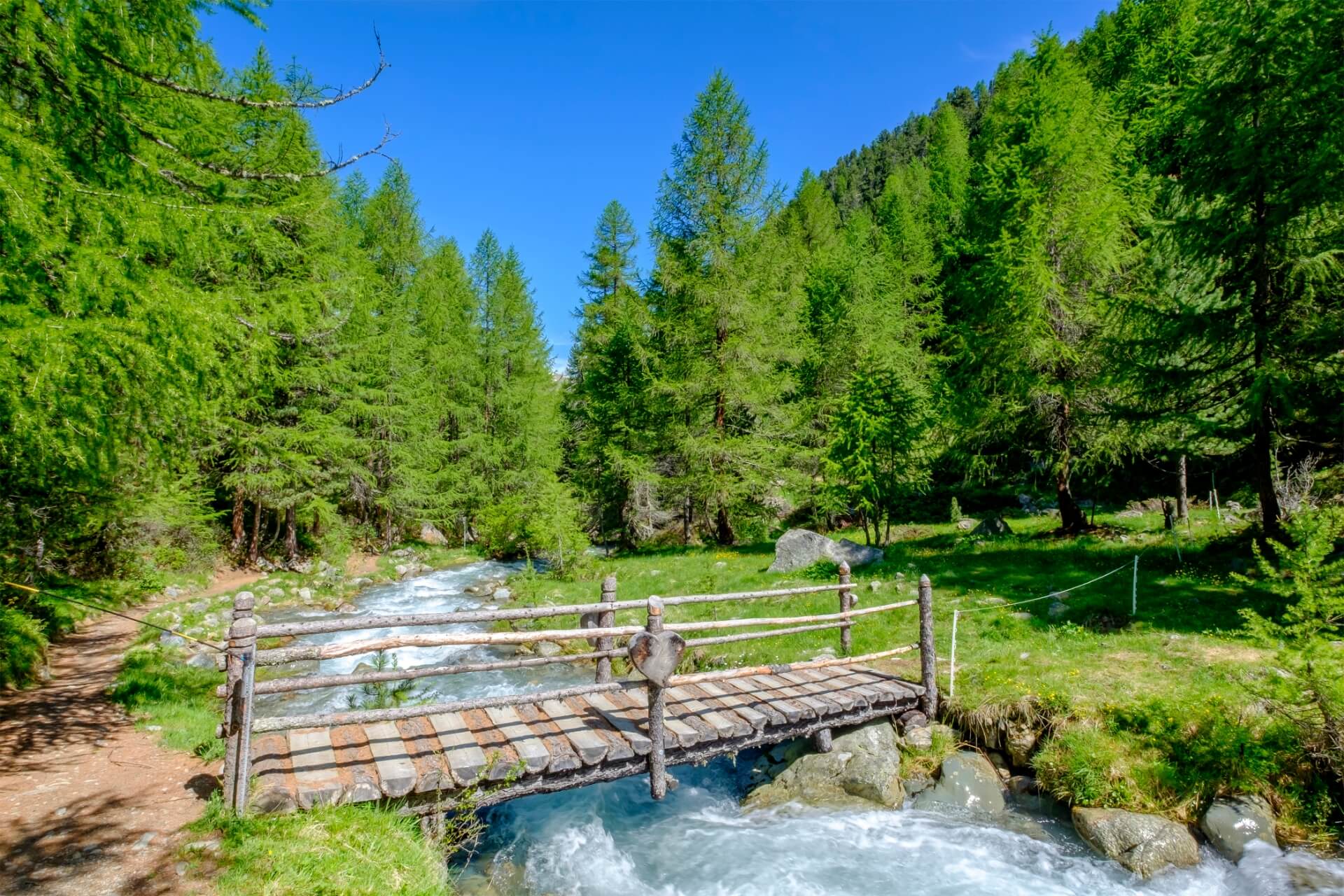 Cycling: Livigno by bicycle
Riding a bike in Livigno seems like the natural thing to do: along with walking, it is the easiest way to get around, and the long valley that runs for kilometres from Forcola to the lake is practically an invitation to hire a bike and go for a ride. Cycling in Livigno takes various forms, all of which are exciting: the professionals hold their high-altitude gatherings and training here, taking advantage of the proximity of the Valtellina's legendary climbs such as Stelvio, Gavia and Mortirolo, but thousands of ordinary cyclists also go for a Sunday mountain bike ride in Livigno. On tarmacked roads or more challenging MTB trails, astride a mountain bike or a state-of-the-art e-bike for reduced effort, any family can ride for kilometres and kilometres immersed in nature, along the relatively flat cycle path on the valley floor or tackling uphill dirt-track climbs.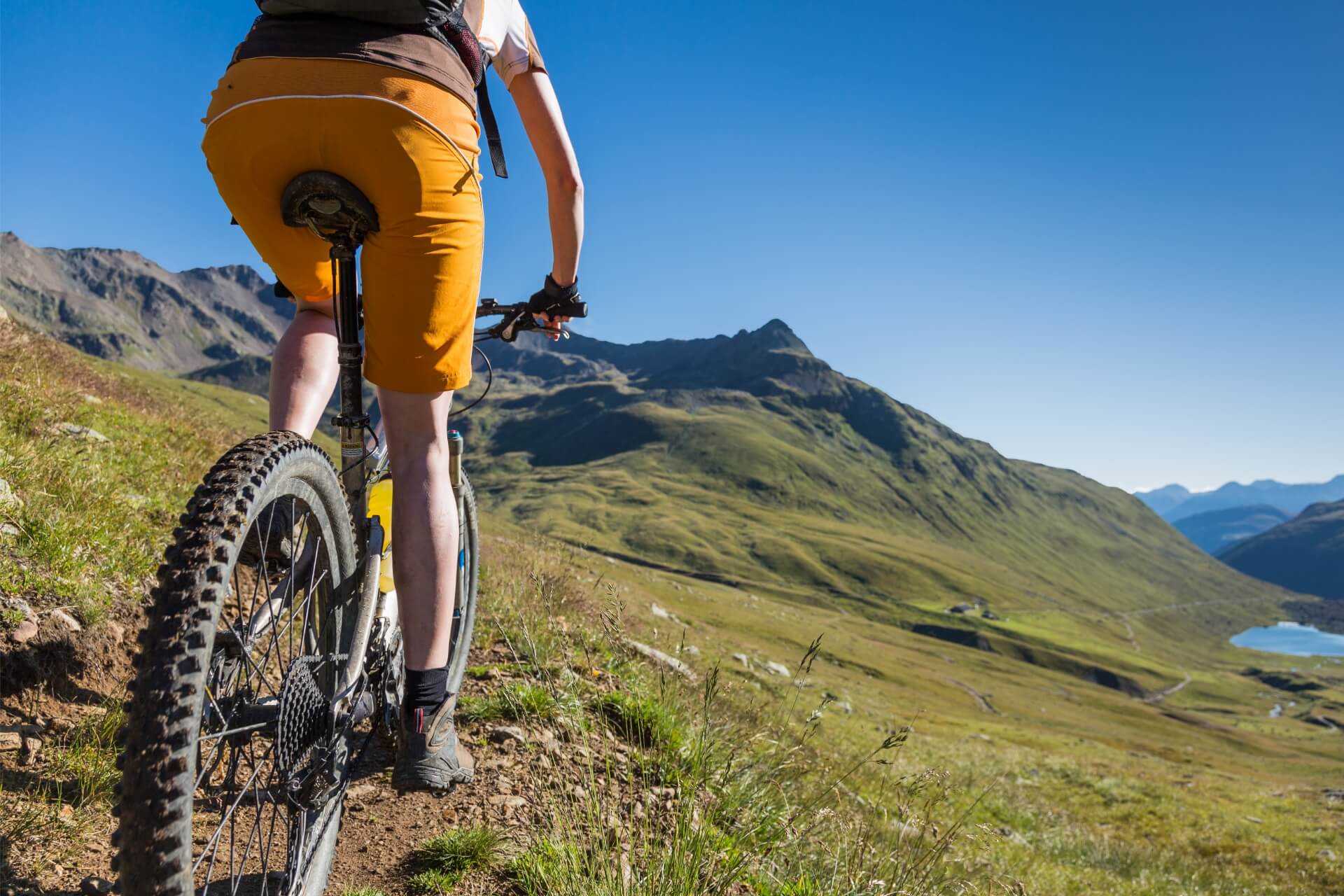 Swimming: Livigno's pool, the Aquagranda
The water of Lake Livigno is probably a little on the chilly side for getting right in (although not for dipping your feet on hot summer days, which you can do in the inflowing River Spol). Luckily, though, near the Lake is the Aquagranda, Livigno's swimming pool and wellness centre which you may already know as a winter attraction alternative to skiing. The Slide&Fun area, separate from the pool where the champions of the Italian national team train and from the Spa area, is an enormous water park for children, young people and families which has everything you could wish for: waterslides of varying intensity, heated pools, hydromassage jets, waterfalls, inflatable raft rides, a shallow kids' area for smaller children, relaxing loungers, a poolside bar and even a sauna and Turkish bath so parents can pamper themselves with a little regenerating relaxation. Children will love it, and they won't be the only ones!
Playing: playgrounds in Livigno
What children love most is playing, even in the mountains. Luckily, Livigno offers plenty of play options and areas: we have sports fields and equipment for activities like football, tennis, basketball, climbing and many other sports and, most of all, play areas dotted throughout the town. Livigno's cycle and pedestrian path, from the outskirts to the centre, is punctuated with picnic areas and spaces with play equipment, slides and swings, which make an easy destination for a family walk. Also, near our family hotel in the heart of Livigno, we have the Kinder Club Lupigno (at the Central Ski School) which organises recreational activities and mini-clubs for children throughout the summer and also offers a playground with bouncy castles and attractions where your little ones can play in the middle of Livigno.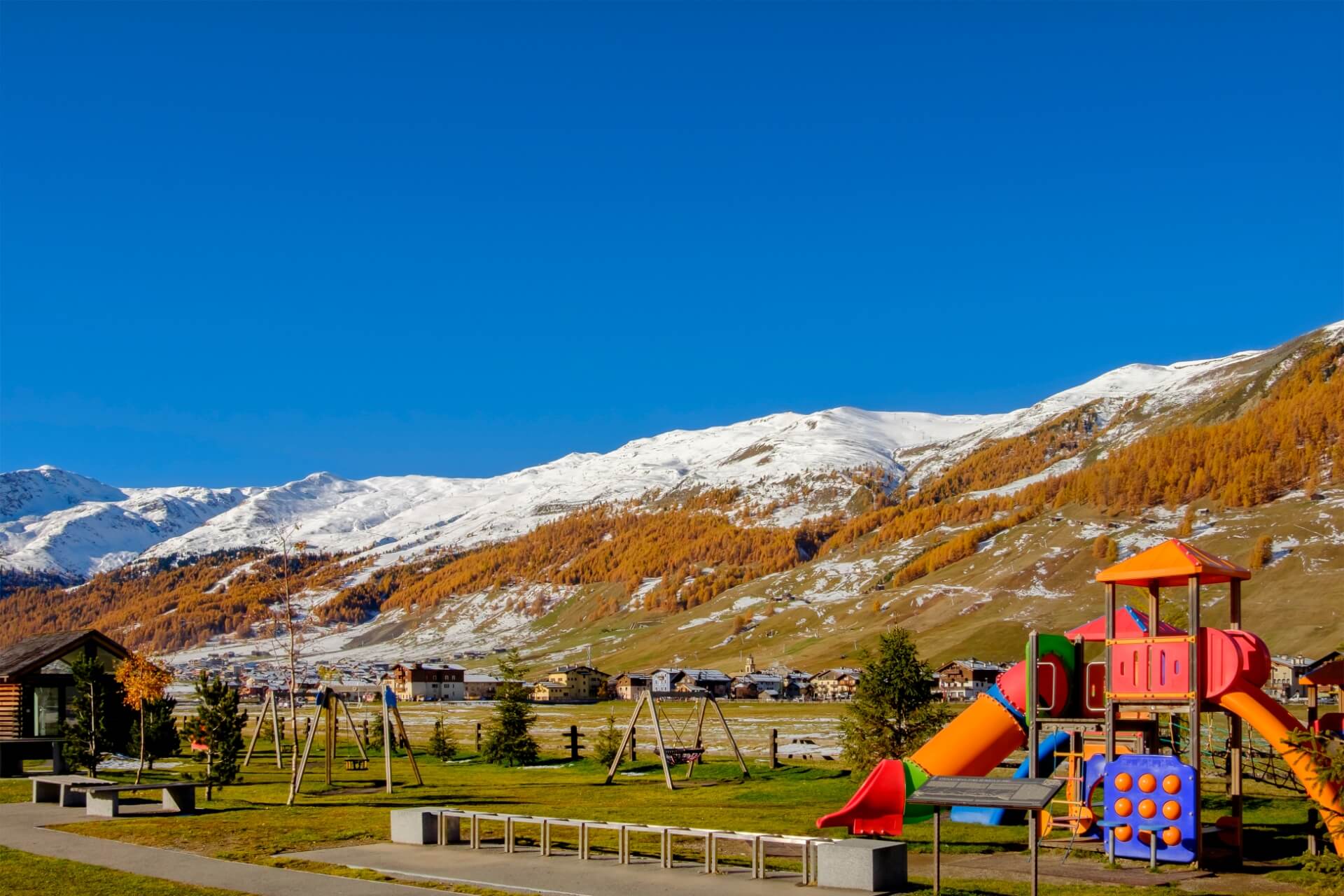 Climbing: the Larix Park in Livigno
For families with children and teenagers looking for more structured pastimes and activities, one of Livigno's top attractions is the Larix Park, Livigno's adventure park for pitting your wits against suspended courses in an adrenaline-fuelled but completely safe experience. The Larix Park offers 9 different courses of varying heights and difficulties, featuring zip lines, rope swings, toboggans, special passages and viewpoints, perfect for challenging yourself and your friends and family and experiencing the exhilaration of walking suspended several metres in the air, all the while immersed in the enchanting setting of the century-old larch wood that gives this place its name.